Performance
EXHIBIT is a collaborative inter-disciplinary performance exploring the notion of non-verbal conversation between multi-disciplinary artists. The performers include contemporary dancer Becky Johnson and visual artist Anna Coviello. By combining the medium of dance and mark making, EXHIBIT explores how each art form can be used as a score for the other to create a response. This series of responses forms a flowing but non-verbal conversation between the artists. Showing how we can connect with one and another even when our usual form of communication has been stripped away from us (which is relatable now more than ever).
The piece has previously been performed at Sull Space, Cardiff and for Tactile Bosch Lounge's IAFT Japan/Cardiff with Sung Nam Han. There is also a workshop exploring the ideologies around the concept of the performance available to take part in during the festival.
Performance credits
Co-created by: Becky Johnson and Anna Coviello
Movement by: Becky Johnson
Artwork by: Anna Coviello
Videography by: Julia Spencer
---
Workshop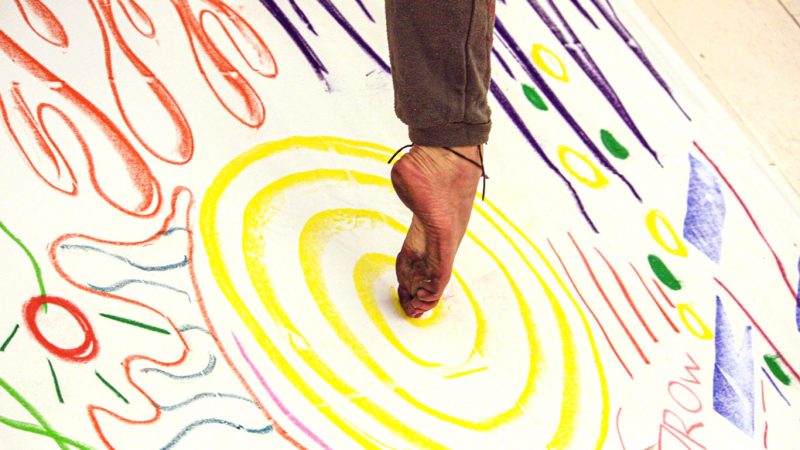 The EXHIBIT workshop will explore the context and themes behind our piece, EXHIBIT. We will begin exploring what makes a score and how to read and use them as scores for creation. We will play with scores in both movement and artwork, creating responses in both embodied and visual formats.
Audience
We want to make the workshop as accessible as possible and welcome those from diverse backgrounds because this will bring different experiences to the space and therefore different approaches to reading people and their conversations. This includes people with ranging abilities and skillsets. Our only limitation would be that the participants would be over the age of sixteen and have an interest in movement and/ or art.
Content
Warm up
Introduction to scores
Introduction to using scores to create movement
Introduction to marking making
Introduction to mark making form movement
Break out rooms to test these in smaller groups
Cool down