Manasamitra is an artist-led organisation based in Dewsbury, West Yorkshire, delivering a range of exciting and original cross-cultural experiences. Our work is rooted in the creative vision of Supriya Nagarajan, a classically-trained Carnatic singer who is inspired by not only the traditions of her South Asian roots but also by a drive to work with new ideas, forms and aesthetics from across the world, presented within a contemporary British context.
---
What's On
Dates for performances, events and activities
---
Latest News
The very latest updates and announcements about projects, commissions, performances and activities in the world of Manasamitra
The Weirdness of Water: an Evening with Alok Jha

Alok Jha reads from The Water Book and talks about "the unexpected weirdness of water and why it's because of that weirdness that life exists on Earth".

Jan Courtney and Juicy Crones – A Festival of Conversations event

Join us for a wonderful, uplifting and funny evening of conversation, laughter and literature. Manasamitra is overjoyed to welcome Jay Courtney, as our second Festival of Conversations event, to read from her new book Juicy Crones and lead a conversation about the joys and challenges of being an older woman.

Life That Has Been

A drop-in event ahead of Dying Matters Awareness Week. You are invited to contribute to the recording of our soundscape with Duncan from Manasamitra. Please bring something you would like to share, an object, poem, photograph or memory.
---
Booking Now
Manasamitra productions currently available for booking.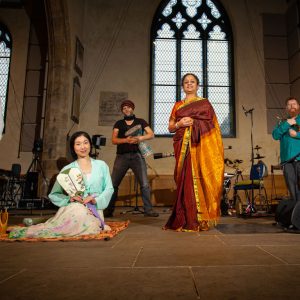 Manasamitra is excited and delighted to bring you The Sound of Tea –a show about our relationship with TEA.
After a year of working remotely and in digital format, we can present, live, new music and performance art mixed with visuals and soundscapes, participatory tea rituals and technology-filled tables with touch-screens for audience members to interact with the performance in real time.
Lullaby – Sonic Cradle is an immersive music performance for family audiences and adults alike.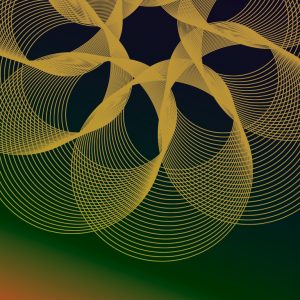 Inspired by the sounds of nature at dusk Manasamitra has created and recorded a suite of new music.
Stories from around the world swirl together with music to create the background to a restful and meditative bedtime story ritual.
A brand new ensemble that merges cultures, stretches musical boundaries and creates a space where new ideas can emerge from a place of friendship and the unmitigated joy of playing music that is un-scripted.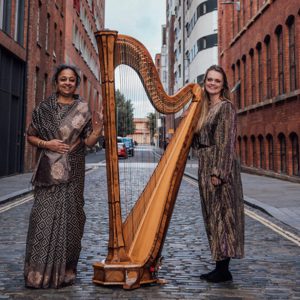 Sonic Threads is an exciting and unique new duo consisting of internationally-renowned classical Indian vocalist Supriya Nagarajan and Lucy Nolan, classically-trained harpist and noted soloist in her own right.
---
Connect with us