Manasamitra is constantly developing ideas, themes and projects and is busy with a number of different activities at any moment in time. These projects originate from a variety of people, places and experiences; some from Artistic Director Supriya Nagarajan's own life journey (Lullaby); some as a response to external events (Festival of Conversations) and some at the request of other people.
We have divided our work into three areas – although those areas do sometimes overlap. Lullaby, for instance, began as a Manasamitra project but is now commissioned on a regular basis and is delivered in many different forms with varying numbers of musicians and artists. Do look through our work below to see the cornucopia of activities and delights.
Projects
We have defined 'projects' as events, performances and activities that have originated at Manasamitra. These have often been supported by a range of fundraising activities and we are eternally grateful for the ongoing support of Arts Council England and the Performing Rights Society Fund, who have provided much of the 'seed' funding for many of our works.
Manasamitra is not a 'funded organisation' so we are constantly working to raise money to support our projects. We would be enormously grateful if you would consider supporting us – click here to see how you can help.
Commissions
We have listed as 'commissions' those pieces of work that we have been asked to create by other organisations. Sometimes we are commissioned to deliver work that began as a Manasamitra project – we have not included those here unless there is a marked variation.
Other Work
Many of Manasamitra's activities are completed with performances but occasionally they result in an installation, which sometimes forms a part of the performance and other times it's a 'stand alone' event.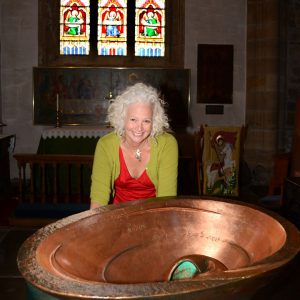 The Singing bowl is a music installation that works with lullabies and similar sounds from across the world.
Corporate Activities
As a result of the impact on people and organisations following the COVID-19 pandemic, Manasamitra considered the benefits of some of our activities in a corporate setting.  Many of our activities could be re-worked to deliver well-being, team-building and mindfulness activities that will help to re-connect people with their work colleagues in a 'real space', acclimatising them to the once-familiar and enabling the adjustment to any post-pandemic changes that might have become permanent.
Our first show that has been re-worked for the corporate market is The Sound of Tea, read more about this.