The Production
Supriya Nagarajan, Creative Director, Composer and Lead Artist will work with a multi-cultural creative team consisting of:
Duncan Chapman: soundscape artist and musician
James Cave: pianist
Karin de Fleyt: flautist
Marc Layton-Bennett: percussionist and didgeridoo player
Fenfen Huang: performance artist
Specially commissioned digital tables that form a part of the show have been designed and created by Professor Mick Grierson (University of the Arts, London) and the company has taken advice on ceremonial rituals, production processes and tea history from tea grower, teacher and consultant Beverly Claire Wainwright of The Scottish Tea Factory.
Manasamitra uses new technology to create an immersive and interactive experience for our audience. Our bespoke digital tables will provide a direct link between audience members, musicians and performance technology and will, in turn, receive information from the performers and the other tables. Touch-screen technology, inbuilt speakers and an ongoing feedback loop creates a unique sensory music event.
Our unique version of a tea ceremony will allow the diversity of the music to reflect and complement the many cultural influences on both music and tea-drinking. Audiences will be invited to listen to the music and to participate in the appreciating and drinking of tea, engaging all five senses; sound, smell, taste, sight and touch.
Origins
This production came from composer and artist Supriya Nagarajan's experience of the perceptual phenomenon of synaesthesia. People experiencing this respond differently to sensory stimulation. When one of their senses is activated; sight, smell, touch, hearing, taste; all senses spring to life, giving an all-encompassing multi-sensory effect. This show portrays that harmonious effect for general audiences by showcasing new music, visuals, soundscapes, an interpretation of international tea rituals and tables packed with technology capturing and reflect the audience's responses in the performance space, creating a real-time feedback loop, ensuring that each performance is unique.
In the UK, drinking tea is seen and experienced as a commonplace activity. Manasamitra want to challenge that idea; building on the ritual of the tea ceremony performed in various cultures as a social practice for developing tranquillity of mind and paying attention to the aesthetic qualities of everyday life. During any tea ceremony, ordinary time is suspended and the everyday practice of brewing, drinking and sharing tea is elevated to the realm of 'high art'.
This project is unique. It delivers a contemporary reimagining of traditional tea rituals: each performance section musically represents different stages of the ritual; preparing the pot; appreciating then preparing the tea; washing, pouring and drinking, creating a structure for the performance and a strong sense of ritual.
The Sound of Tea orchestrates and connects interpretations of traditional Carnatic songs and melodic frameworks played by international musicians, with soundscapes, live electronics, abstract visuals and aromas, to create an immersive sensory environment. Specially designed interactive tea tables respond to the music and audience gestures to create an interactive loop between the audience and performers.
Tea, collected from world sites, Japan/China/Turkey/India/Sri Lanka and the UK, is brewed using culturally accurate customs and rituals; while audiences partake in sampling/observing each tea ceremony.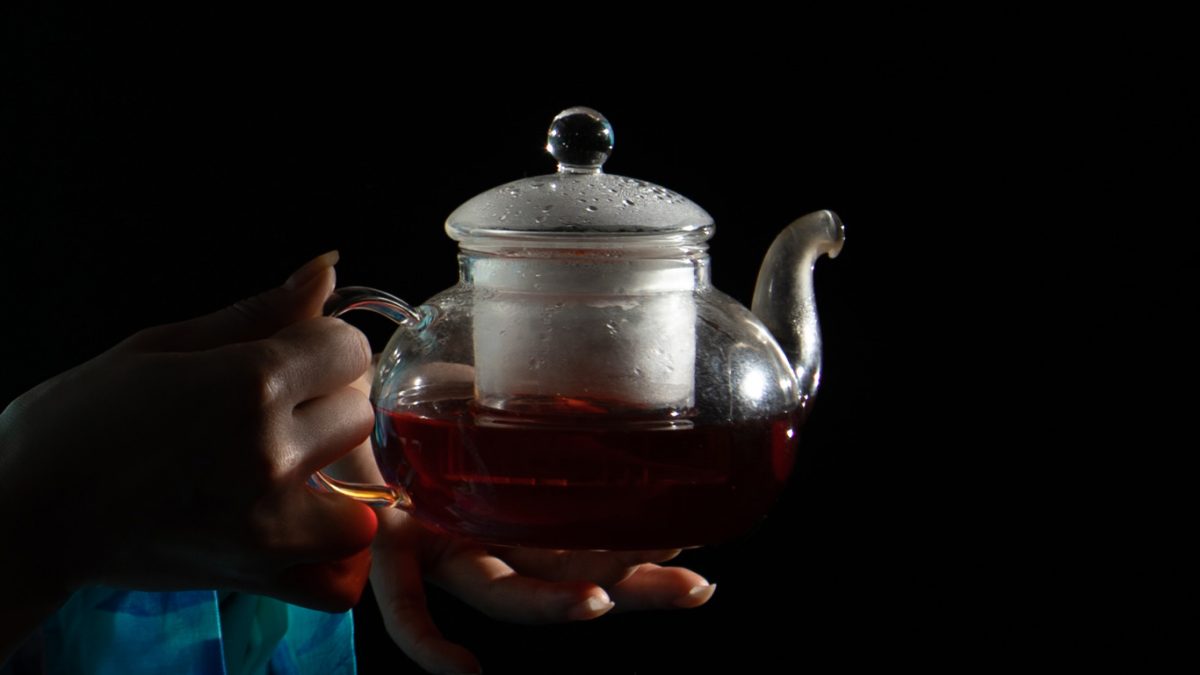 Teams have been physically separated for many months as a result of the pandemic and as we return to workspaces and new ways of working, it is vital that teams are able reconnect and rebuild.
The Sound of Tea is an immersive, mindful experience for the corporate workplace.
Performance Dates